Boenden
Berghotel Lämmerhof
- Sankt Martin am Tennengebirge
Berghotel Lämmerhof
5522 St. Martin am Tennengebirge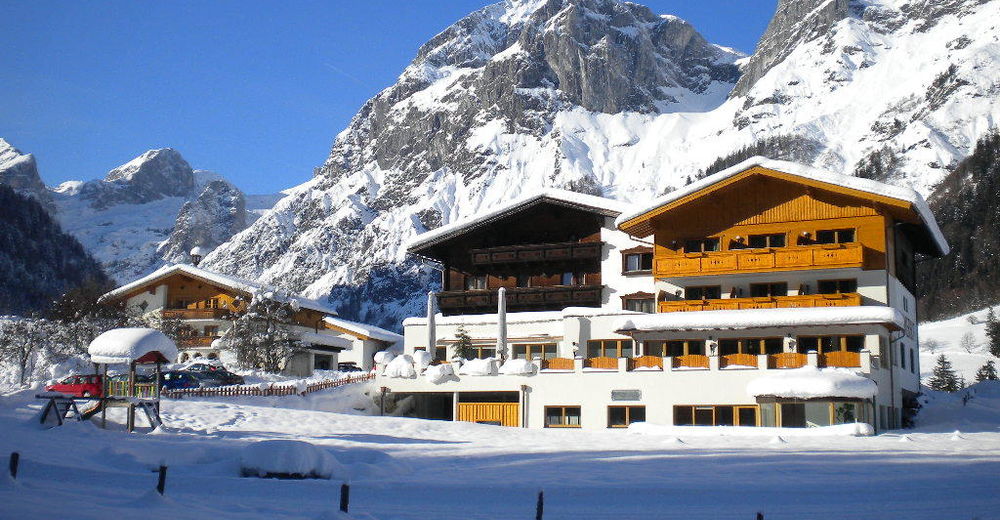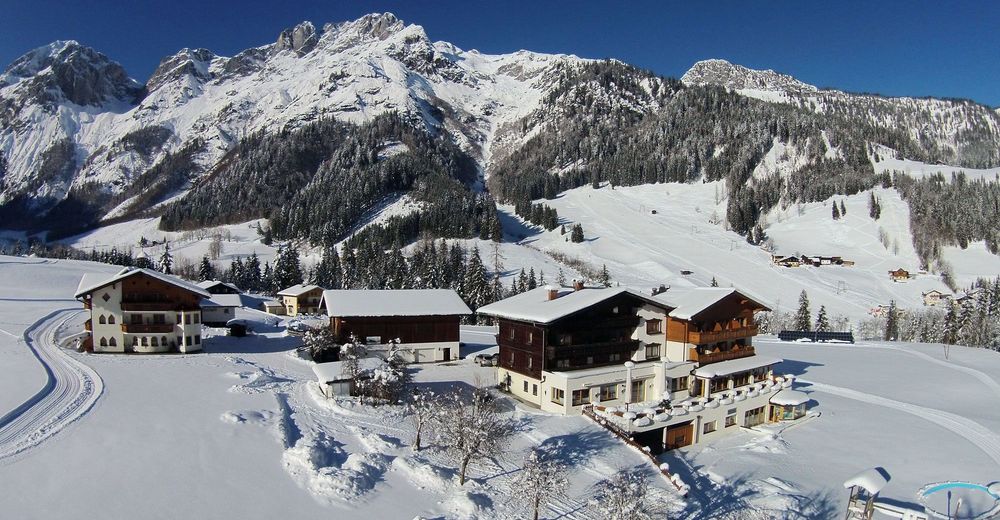 © Berghotel Lämmerhof - Gabriel Lanzinger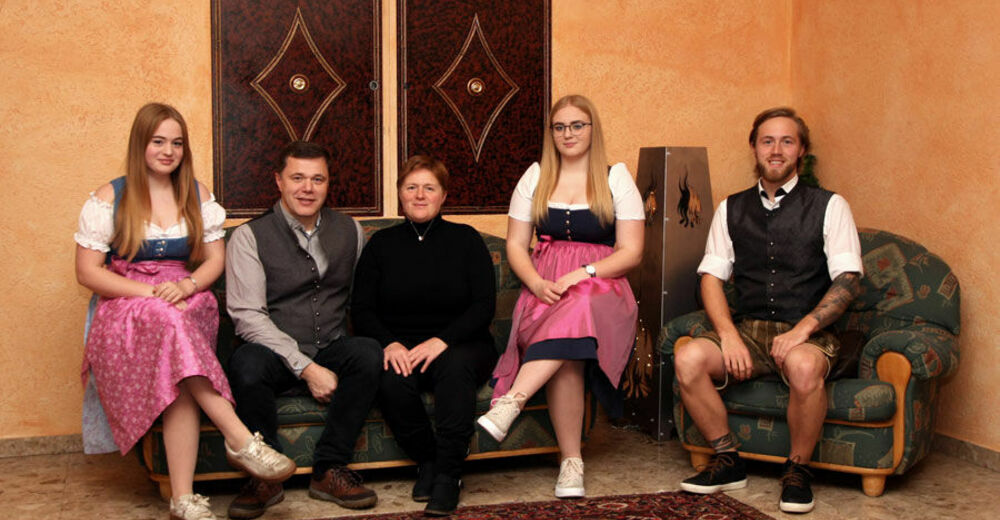 © Berghotel Lämmerhof
© Berghotel Lämmerhof - Gabriel Lanzinger
© Berghotel Lämmerhof - Gabriel Lanzinger
© Berghotel Lämmerhof - Sandra Auer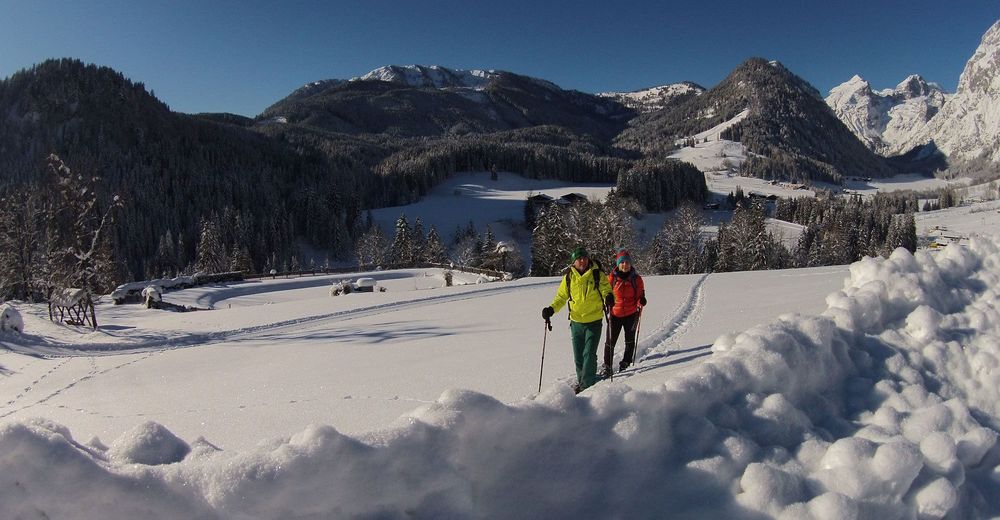 © Berghotel Lämmerhof - Gabriel Lanzinger
© Berghotel Lämmerhof
© Berghotel Lämmerhof
© Berghotel Lämmerhof
Berghotel Lämmerhof - Winter Holidays in Dachstein West
The mountains within reach! Nature experience & hospitality
Our hotel offers rooms with balconies in a picturesque location at 920 metres above sea level in St. Martin in the Lammertal Valley, surrounded by the Tennengebirge, Gosaukamm and Dachstein Mountains.
Ski touring in the Tennengebirge & Gosaukamm
The guests of the Alpine Hotel Lämmerhof appreciate the access to the many ski and mountaineering tours offered by the various mountains within close reach by feet or car. The most famous tours and mountains are the Hochkarfelderkopf, the Eiskogel, the Gamsmutterkar and Brandelbergköpfe, the Kamplbrunnspize (Kampl), the Koreinhöhe, the Frommerkogel and many more. In the Lämmerhof team you will find many experts of the region for the planning of your tours.
Dachsein West & Ski Amadé skiing area
In winter the Dachstein West ski area is 6 km away. There you will find 130 km to ski and 35 skilifts. Skiing is possible from the beginning of Dezember until the beginning of April. A small ski lift is 300 metres away from our hotel Alpengasthof Lämmerhof. There you have the possibility for floodlight skiing once a week. The ski amade with the famous villages Flachau, Flachauwinkel, Zauchensee, Schladming you can reach within 25 to 40 min by car.
Cross-country skiing and skating
The valley Lammertal is one of the most beautiful cross-country ski areas in Austria. 50km cross-country run you will find starting directly in front of the hotel.
The Lämmerhof half board
*Welcome Schnapps
*3 course evening dinner with soup and salad buffet, 3 main dishes to choose (also with vegetarian choice), 2 desserts to choose
daily use of our *spa area with sauna, steam bath, infared cabin, foot bath, ice fountain and jaccuzzi with view on the gosaukamm mountains and the famous Bischofsmütze
*weekly snow-shoe hike with guidance
*free parking
We offer:
rooms, family rooms and suites with shower or tube and toilet, TV and mostly with a balcony
apartments for 2 to 4 persons
a vacation house for up to 11 persons (110qm)
The Lämmerhof's restaurant serves traditional Austrian cuisine. Wi-Fi access in public areas and parking are available free of charge.
Wellness & Relax
At the Berghotel Lämmerhof you will find a cosy spa area with sauna, steam bath, infrared cabin, foot bath, ice fountain and jaccuzzi with view on the Gosaukamm mountains with the famous Bischofsmütze.
Massages & spa treatments can be booked in Anita's Pamper Parlour!
Videos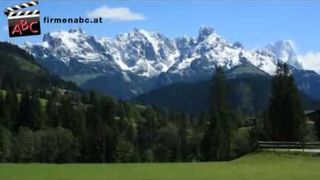 01:18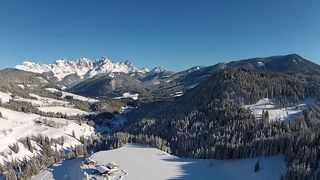 00:48
Tillgänglighet Berghotel Lämmerhof
på begäran
tillgänglig
ej tillgängligt
stängd
november 2021
KW
mån
tis
ons
tor
fre
lör
sön
1
2
3
4
5
6
7
8
9
10
11
12
13
14
15
16
17
18
19
20
21
22
23
24
25
26
27
28
29
30
april 2022
KW
mån
tis
ons
tor
fre
lör
sön
1
2
3
4
5
6
7
8
9
10
11
12
13
14
15
16
17
18
19
20
21
22
23
24
25
26
27
28
29
30
juli 2022
KW
mån
tis
ons
tor
fre
lör
sön
1
2
3
4
5
6
7
8
9
10
11
12
13
14
15
16
17
18
19
20
21
22
23
24
25
26
27
28
29
30
31
augusti 2022
KW
mån
tis
ons
tor
fre
lör
sön
1
2
3
4
5
6
7
8
9
10
11
12
13
14
15
16
17
18
19
20
21
22
23
24
25
26
27
28
29
30
31
september 2022
KW
mån
tis
ons
tor
fre
lör
sön
1
2
3
4
5
6
7
8
9
10
11
12
13
14
15
16
17
18
19
20
21
22
23
24
25
26
27
28
29
30
oktober 2022
KW
mån
tis
ons
tor
fre
lör
sön
1
2
3
4
5
6
7
8
9
10
11
12
13
14
15
16
17
18
19
20
21
22
23
24
25
26
27
28
29
30
31
november 2022
KW
mån
tis
ons
tor
fre
lör
sön
1
2
3
4
5
6
7
8
9
10
11
12
13
14
15
16
17
18
19
20
21
22
23
24
25
26
27
28
29
30
Erbjudanden Vinter Berghotel Lämmerhof
Erbjudanden Sommar Berghotel Lämmerhof
Priser
Lammertal (Doppelzimmer)
pro Person / pro Nacht
| Halvpension
Haustiere
max. 2 zulässig
+ 9,00 €
pro Antal / pro Natt
Bischofsmütze (Suite)
pro Person / pro Nacht
| Halvpension
Haustiere
max. 2 zulässig
+ 9,00 €
pro Antal / pro Natt
Betalningsvarianter
Cash, Maestro, Mastercard, VISA,
Tänk på:
Dogs allowed Euro 9,00 per day (without food)
Garage place Euro 9,00 per day
Free parking places in front of the hotel
Rum/Lägenheter
Betalningsvarianter

Cash, Maestro, Mastercard, VISA,
Webcams