Längdskidåkning
Langlaufarena Pirkdorf - Petzen / Klopeiner See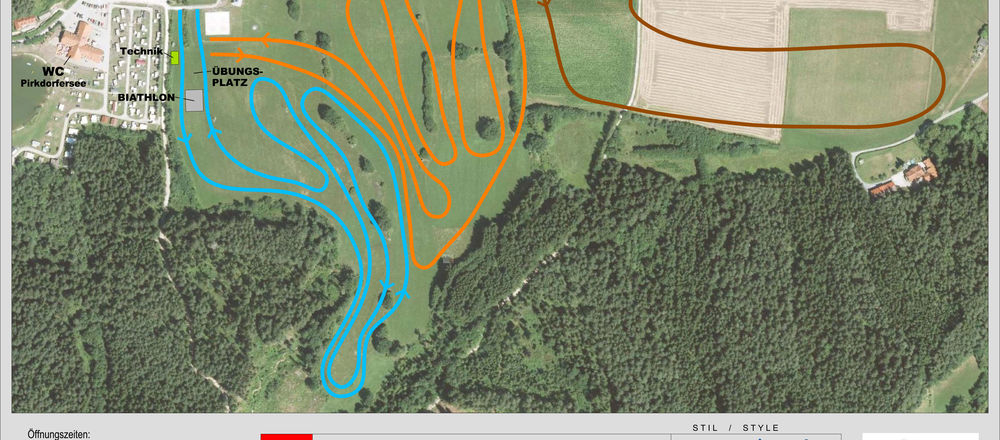 Loipen Mån, 04.12., 07:30
Geplanter Saisonstart ist Freitag 8. Dezember 2023, 9 Uhr.
Nuvarande verksamhet: Inget meddelande
One of the most beautiful cross-country skiing arenas in Austria is located in the southernmost part of Carinthia in the Karawanken region at the foot of the Petzen. The cross-country skiing arena Pirkdorf is located in the municipality of Feistritz in the Klopeiner See region - southern Carinthia!
Snow-sure cross-country skiing enjoyment is guaranteed by our * snow-making equipment*. In addition, our floodlit trail ensures romantic winter fun and optimal training conditions in the dark and freshly groomed every day!
At the trail entrance there is a top cross-country equipment rental, where all cross-country equipment is available, including children's trailers.
Easy access via well-signposted road directly to the start of the trail!
The cross-country skiing region has just been awarded the cross-country skiing quality seal of the State of Carinthia for the next five years!
Highlights of the cross-country skiing arena Pirkdorf:
Location of the cross-country skiing arena: east of Lake Pirkdorf at the foot of the Petzen in the municipality of Feistritz ob Bleiburg in southern Carinthia.
Parking facilities directly at the start of the cross-country trail
Natural snow trail: length approx. 3.5 km
Extension: length of 3.5 km
Artificial snow trail: length approx. 2.5 km
Total track length: approx. 10 km, can be crossed in classic and skating style
Per run: approx. 160 metres altitude difference
Equipment on the track: lighting and sound system for the artificial snow track
Trail grooming: with existing grooming equipment
Offers: Laser biathlon facility, ski rental, webcam, children's ski trailer.
Extra tip: Night cross-country skiing on Tuesdays, Thursdays and Fridays from 17:00 - 20:00 on the 4 km floodlit section.
Biathlon in the cross-country arena:
4 pcs. Laser biathlon rifles with 5 shooting ranges.
The tracks are prepared daily, so guests have access to top modern slopes. Of course, catering is also provided in the Pirkdorfer See restaurant. Changing rooms, showers and the use of the toilet facilities are also freely available there. A ski hut is available for storing and preparing your cross-country skis.
Technique and waxing courses:
We also offer regular technique and waxing courses for both skiing techniques, for children as well as for adults.
Course dates:
Group course offers
Instructor is on site for individual requests / private lessons
If you have any questions: Josef Skuk 0664/41 51 044
Equipment rental: NEW stuff 2022/23!
If you do not have your own cross-country skiing equipment, you can rent it on site for a fee of € 15,- (children/youth € 11,-). Skis, ski poles and boots for both techniques (classic, skating) are available.
Ski rental from child to adult (boot size 28 - 47), also for larger groups.
In the rental is also the children's trailer/ € 9,-.
*Initiative children / pupils on the cross-country skiing track... the gymnastics lesson should take place on the cross-country skiing track!
Circuit for classic and skating skiing, laser biathlon, sufficient rental equipment available from shoe size 31. Children from 7 years of age interested in cross-country skiing are cordially invited to regular year-round training (2x/week) - see homepage for dates or contact Mr. Skuk Josef 0664/4151044 or 04230/20019 if you have any questions.
*Information for companies, clubs, communities, various organisers: *
The complete existing cross-country skiing facility incl. instructor can be rented for the whole day or in the evenings at a preferential price by prior arrangement.
Events season 2023/2024:
Landescup race: Sat, 24 Feb. 2023 in the free technique
Grand Fischer Ski Test: Sat/Sun, 24-25 Feb. 2024
---
Priser
Use fees season 2023/24:
Children up to 7 years free of charge
Day ticket/night trail for teenagers up to 16 years € 6,00
Day ticket/night trail for adults € 10,00
Season ticket for youths up to 16 years € 90,--
Season ticket for adults € 140,--
No refund in case of adverse weather conditions and COVID restrictions.
Cross-country skiing equipment (skis, poles, boots) for classic and skating style for a fee of adults € 18,-- children/youth Euro 13,-- children's trailer fee € 10,--
The prices include all taxes!
Tickets can be purchased directly on site in the cross-country arena.
Opening times 2023/ 2024:
Daily from 9:00 - 17:00
Night cross-country skiing Tue, Thu and Friday from 17:00 - 20:00
---
Förfriskningsställen
Schihütte zur Lagerung und Präparierung der Langlaufschi; Gastronomie in der angrenzenden Pension-Camping-Restaurant Pirkdorfer See (www.pirkdorfersee.at)
Benützung der WC- und Sanitär-Anlagen , Umkleidemöglichkeiten im Obergeschoss der Vereinshütte.
---
Aktuell information om längdskidspår
Webbplats

E-Mail

Telefon

+43 4230 200-19
Loipen Översikt
2
klassiska leder
10 km
Kunstschneeloipe und Naturschneeloipe
2
Skatingloipen
10 km
Kunstschneeloipe und Naturschneeloipe
1
Spår med strålkastare
4 km
Di, Do und Freitag zwischen 17:00 - 20:00 Uhr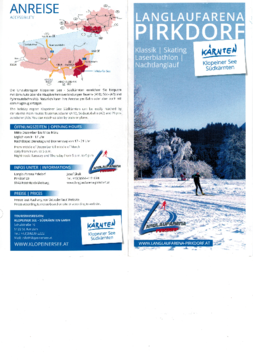 Olika
Uthyrning
Direkt in der Langlaufarena
Längdskidor Tjänster
Regelmäßig werden Technik- und Wachskurse für beide Lauftechniken, sowohl für Kinder als auch für Erwachsene, angeboten.

Kontakt Turistbyrå
Tourismusregion Klopeiner See - Südkärnten GmbH
Adress

Schulstraße 10, A-9122 St. Kanzian am Klopeiner See

Telefon

+43 (0)4239 2222

Fax

+43 (0)4239 2222 33

E-Mail

Homepage
De mest populära regionerna för längdskidåkning