Boenden
Alpenhotel Tyrol – adults only
- Pertisau am Achensee
Alpenhotel Tyrol – adults only
6213 Pertisau am Achensee
© Robert Puteanu
© Robert Puteanu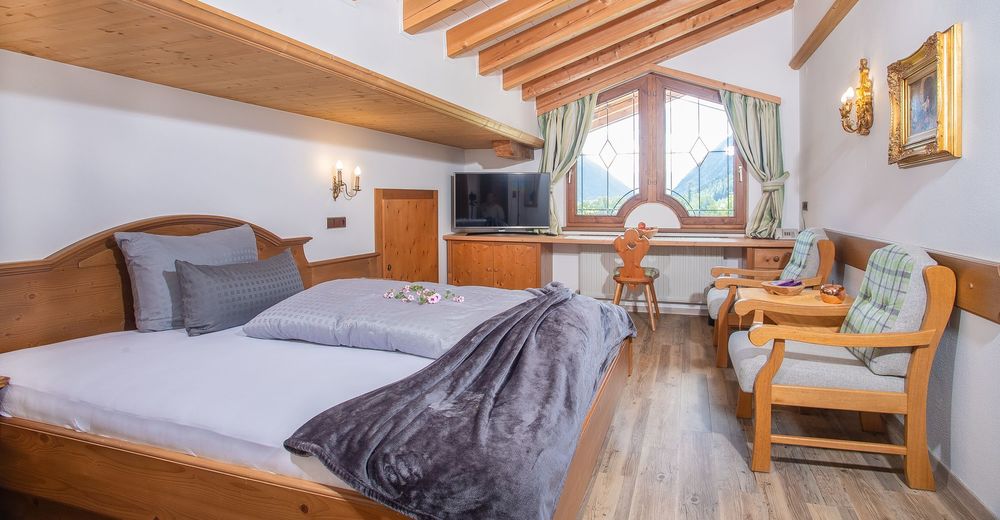 Michael Ladstaetter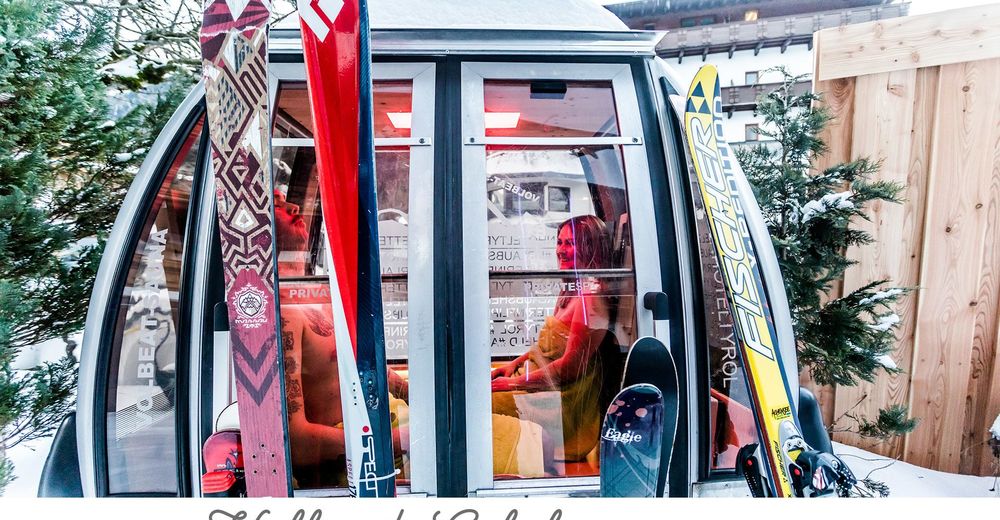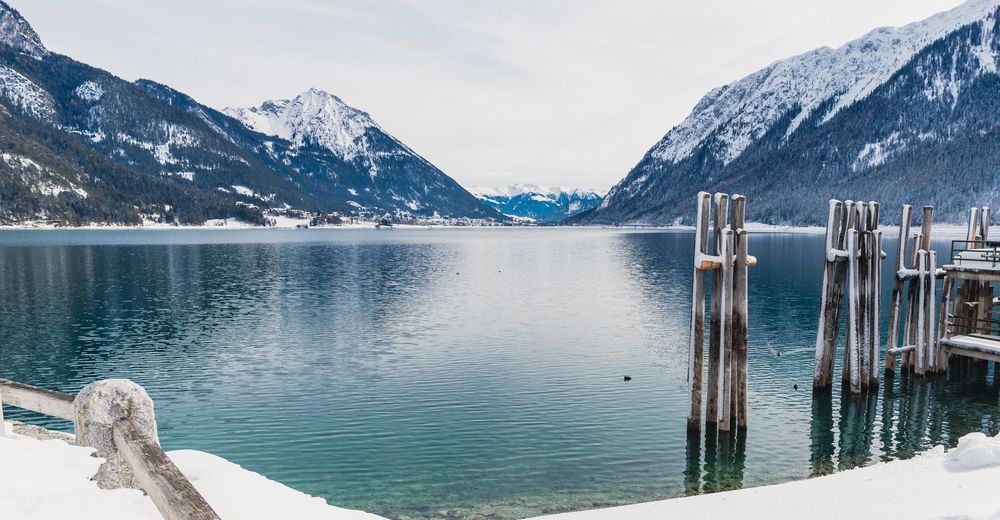 © Robert Puteanu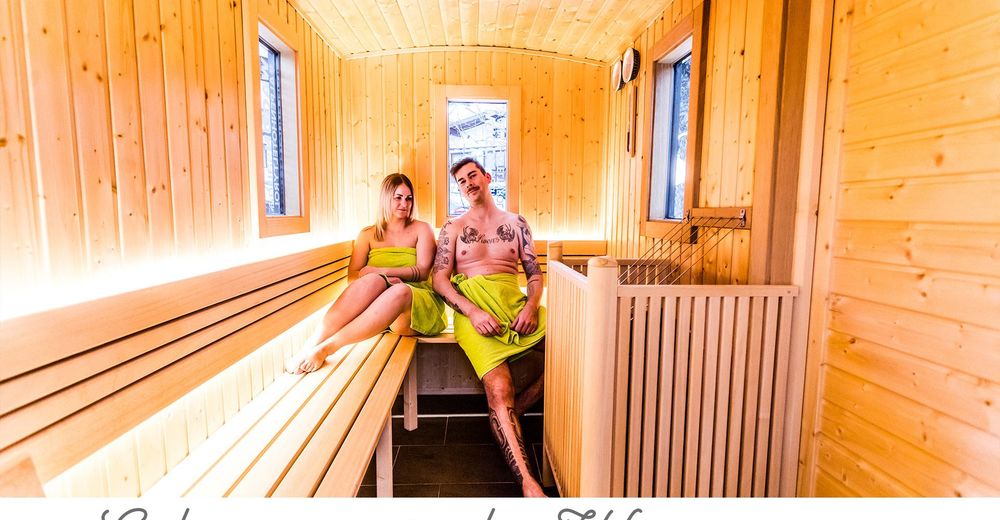 Your winter experience at the Achensee
- in the hotel for the young and the young at heart!
Live the dream - Live your holiday at Alpenhotel Tyrol!
Relaxed, casual and chilling in your relaxed holiday * surrounded by mountains and the Achensee *, with the best snow conditions.
Our 4-star hotel is located in the upper village of Pertisau in Tyrol, directly on the cross-country ski trail and * at the entrance to the beautiful Karwendeltäler *.
Everything important you can reach in a few minutes from us.
You stay in one of the most famous and oldest houses on the Achensee.
The Alpenhotel Tyrol presents itself as young, dynamic and with a modern, urban touch.
---
--------------- **********
Culinary pampering as a perfect start to your holiday
With more than 500 breakfast items / the comprehensive * Achensee organic breakfast buffet from the Alpenhotel Tyrol * has already made a name for itself in the region. Regional from local producers and farmers, home-made, sweet, savory, traditional, healthy ... nothing to be desired!
/ Milk, yoghurt, cream / from the "Klausenhof" in Pertisau
/ Cheese & dairy products / from local producers and regional alpine farmers
/ Soymilk, lactose-free milk /
/ Fruit and rich in vitamins / by South Tyrolean producers
/ Organic sausage and meat products / from the Tyrolean Oberland with proof of origin
/ Free range eggs / from Austria
/ large tea corner / with "Bio & Demeter products" from Sonnentor
/ Coffee enjoyment / at the coffee bar
/ Honey assortment / with a large selection
Honeycomb honey / directly from the beekeeper
/ Homemade jams /
/ Juice bar and syrup corner / homemade syrups and from the Tyrolean fruit cuisine "Darbo"
/ Rolls and pastries from the family business / and traditional baker "Tappeiner"
/ Homemade breads /, fresh and traditional every day
Every Saturday, Sunday and public holiday there is the legendary Alpenhotel * Brunch until 13:00 o'clock *. Heart, what do you want more?
BBQ * - Every Friday evening steaks are personally prepared by the chef. Whether Argentinian, dry-aged, Tyrolean mountain ridge, high rib, T-Bone, Classics - here you get the best steak served.
Fancy self-sufficiency? That too is possible; we have a kitchen especially for that!
---
--------------- **********
Get out into nature - enjoy the winter ...
We are surrounded by wonderful nature, which allows an incredible amount of outdoor activities!
    - sledding? No problem - luge and sled for our guests!
    - snowshoes? Of course available!
    - 150km of winter hiking trails in the Karwendel Nature Park
    - Igloo construction? Yes, we also offer courses!
    - Glacier tours? With our experienced mountain guide!
    - To ski? Very close! With the ski bus to Pertisau, Achenkirch or Maurach! (Ski room, shoe room in the hotel available)
    - Cross-country skiing / skating right outside the front door
    - ski tours? Roli, the hotel owner takes you on a ski tour
     - as well as regular outdoor action with the AHT team
---
--------------- **********
Your Wellness Bonus:
    - Real wood pine sauna
    - Outdoor adventure sauna - train carriage. A highlight in winter!
    - Infrared cabin from Physiotherm
    - Organic natural pool
    - Sun terrace with loungers
    - Relaxation room for the perfect relaxation
    - Wellness bag for the duration of the stay
   - Sun terrace, ideal for mulled wine & co
   - Lounge
   - cuddly places
Massages, treatments and baths * by Roland & Team.
Roland not only prepares the most legendary breakfast for you but also has the training to feel good. Supported by a female power, together we offer you numerous possibilities for you:
Massages (aroma massage, hot stone massage, herbal stamp massage, full body massage, neck intensive, foot reflexology, etc.), baths, spas, treatments (mud baths, organic hay baths), shiatsu, breathing techniques, cold training
---
--------------- **********
Our rooms
You have a long day behind you? Relax in our Urban Soul Rooms 24-36m², equipped with the fastest high-speed Internet & Wi-Fi. Our smart TVs have Netflix and Amazon Prime. Alright, of course, you also have access to Sky TV with all available Sky programs such as Sport, Discovery, Disney and more.
  
Coffee Addict? We have prepared and put you a coffee machine in the room! ;-)
---
--------------- **********
Sounds perfect, but * you like traveling with a dog? *
He is welcome and is greeted with a surprise. Yes, we also have a Hundewellnesstasche, own towels, a Hundewaschplatz, a feeding & water bowl, blanket / baskets, tips for hiking and sports with the dog and even a regional dog service!
Do you still have questions? Send us an inquiry and we will gladly come back to you.
Servus at Roland and his team from the Alpenhotel Tyrol - the young place of rest and meeting place for those who love nature, the Achensee and life as much as we do!
#alpenhoteltyrol
-> We speak German and English - please consider this in inquiries and communication.
Videos
Worth knowing about our hotel
Location:
Our hotel is located in Pertisau on the beautiful Achensee. We are in a happy position: The * Karwendel Nature Park is five minutes away *; the shores of Lake Achen can be easily reached with a short fifteen-minute walk. In winter, the cross-country ski trail passes directly by the hotel; There is a direct in-house trail entrance and the ski lift is only five minutes. We have a quiet and central location, right on the golf course and off the main road. You want a * room with lake view *? We are happy to comply with the request with appropriate availability.
Getting there:
For all guests who arrive in public, we offer a * free transfer from and to the train station Jenbach *. (Please notify collection dates at least 2 days before departure). For those who arrive by themselves: we have garages and carport (on request and extra charge), have a large parking area and a covered motorcycle parking.
... then you'll be happy to hear that single person travel is possible at a very modest cost.
We are an adults-only house, meaning you can focus on you and your holiday. Pure relaxation!
Activities:
We love the nature and the great possibilities in, on and around the Achensee. That's why we provide a variety of sports equipment (mostly free) for rental in both summer and winter. These include in-house SUPs, longboards, bicycles / mountain bikes, e-bikes, e-cars, luge, sledges, snowshoes, climbing equipment, motorcycles. The region also allows canyoning, tubing, glacier tours, via ferrata, tandem flights with the Achensee flying school, water fun for sailors, surfers and finally we also offer golf rounds with Roland, the hotel operator.
As a non-smoking hotel, smoking is not allowed in the entire interior and in the rooms. But you can enjoy your cigarette or cigar on our sun terrace or anywhere outside.
We are dog friendly - all for Bello: *
Of course, your dog is allowed to travel with you; He is welcome to us and will receive you with a surprise. We offer a dog bag for the duration of the stay, have a dog washing area, towels, Gassi-Sackerl, tips for hiking and sports with the dog, dog information folder, a regional dog service and even offer dog collar & dog leash design - for an individual collar or a Leash, which can be delivered even during the holiday period, depending on the duration of your holiday.
---
--------------- **********
What our guests say:
/ "Again the best holiday - I have been here for the third year in a row in the winter and also twice in the summer, and I must say, every time I enjoy it more! Roland and his team prepare the best stay ever , with a huge breakfast buffet and a lot of love, we love to come here and we will do it for years to come.
Lara Garson (Trip Advisor) "/
---
-> We speak German and English - please consider this in inquiries and communication.
Allgemeine Verfügbarkeit Alpenhotel Tyrol – adults only
*WHAT? Your desired date is not bookable? *
Then just ask directly and we'll check again for you.
info@hoteltyrol.at
Erbjudanden Sommar Alpenhotel Tyrol – adults only
Priser
| Vinter | Huvudsäsong | Vor-/Nebensaison |
| --- | --- | --- |
| Övernattning | 85 € till 100 € | 85 € till 100 € |
| med frukost | 85 € till 105 € | 85 € till 105 € |
| Halvpension | - | - |
| All-inclusive | - | - |
| Sommar | Huvudsäsong | Vor-/Nebensaison |
| --- | --- | --- |
| Övernattning | 85 € till 100 € | 85 € till 100 € |
| med frukost | 85 € till 105 € | 85 € till 105 € |
| Halvpension | - | - |
| All-inclusive | - | - |
Possibilities & Conditions
Well-tried Tyrolean quality, personal care and service ... because you are worth it!
The daily room rates are per person from 3 nights,
including service, breakfast, plus. about € 3,00 tourist tax (from 14 years) per person and night.
Short stays are also possible.
Single supplement: € 15,00 per person and night.
Solo travelers have a double room for single use.
Check out our Terms & Conditions
---
.............
Just send me your bergfex request in German or English *
I (we) willingly and promptly answer you, and we are happy to
You (or you) may soon be welcome to join us at Lake Achensee
Your host Roland & Team from Alpenhotel Tyrol in Pertisau *
Rum/Lägenheter
Betalningsvarianter

Cash (minimum), credit card, debit card