Chalets Coburg Schladming
- Schladming-Rohrmoos
Chalets Coburg Schladming
© Schladming-Appartements Maria Gruber GmbH - Tieber Michael
© Schladming-Appartements Maria Gruber GmbH
© TIEBER - Tieber Michael
© Schladming-Appartements Maria Gruber GmbH - Tieber Michael
© RAPHAELGABAUER.COM
© Schladming-Appartements Maria Gruber GmbH - Tieber Michael
Hotell / Semesterlägenhet / Bed & Breakfast / Chalet
106 Bäddar, 36 Rum, 21 Lägenheter

Chalets Coburg Schladming

Coburgstrasse 833, 8970 Schladming - Ankomst
The casual hideaway near the Planai!
CAREFREE PACKAGE
In order to look forward to a carefree & safe vacation, we have considered an extra portion of attention & service.
-Bread delivery & breakfast service, delivered in a breakfast basket with your orders
-CATERING - direct delivery to the apartment
-Shopping service, beverage service or fridge filling
-Contactless Check-In & Check-Out on request
-Ski ticket service in all our receptions and service office
-Tips & recommendations for a safe vacation
Detailed information Carefree Package: www.schladming-appartements.at/en/Accommodation/Carefree-Package
CHALETS COBURG
Make the Chalets Coburg your new favourite destination ‒ in the vicinity of the Planai with a guaranteed view of the Dachstein. We stand out from the crowd ‒ in so many respects!
A DREAM VIEW & SHORT DISTANCES & SKI IN
Anyone wishing to holiday right by the Planai yet with a unique unrestricted 360-degree patented dream panoramic view of the Dachstein and into the Enns Valley … and who appreciates being within easy reach of all their desired destinations will find us a wise choice: we're near the centre of Schladming, Planet Planai, the conference centre, the ski slopes, the ski school, bike trails, restaurants and shopping facilities. Mountain view included.
3 BREAKFAST OPTIONS
Prepare your own with a roll service, breakfast in bed or a buffet – it's your choice. The shouting of children, hustle and bustle or hangovers ‒ breakfast whenever and however you wish in your own apartment ‒ we'll deliver your rolls on request to your front door. Breakfast in bed ‒ we can provide this luxury and will deliver your chosen breakfast daily to your apartment. Or maybe you prefer a buffet? Ours is a little different, offering quality rather than quantity, more regional, more seasonal, small but exquisite, gluten-free, different every day, with no need to shop and wash up.
MY COBURG STYLE
Apartments, of course, are two a penny, but we're an idea ahead. With 30 years' experience in the tourist sector, we have an idea what people are looking for in a holiday and know what is and isn't popular. And we've brought all these ideas and dreams to fruition in the "My Coburg Style".
My Coburg Style stands for:
•off the peg – no way. With us you get bespoke processing of local materials.
The kitchen has all the bases covered including cutlery, crockery and endless glasses while your mattress can be hard or soft – the choice is yours, a top sleeping spot for the living room napper.
•Yes, we live in the mountains but we're bang up to date. We're alpine when it comes to materials such as wood, stone and fabrics but have a passion for interior design and the courage to embrace the offbeat, combining traditional touches with contemporary stylishness ‒ this is what sets the Coburg feeling & style apart. And there's a bit of art too. We don't want to give everything away ….
WELLNESS
Our wellness facilities are not in the cellar or on the roof. We have a chalet sauna in the outdoor area with a sundowner effect and a fantastic view. A luxuriously soft bathrobe and sauna slippers make the trip to the sauna through the fresh air a pleasant experience. Our view point is the ideal chill-out zone for those in search of tranquillity, panorama fans and massage junkies.
If you prefer more privacy and not to be disturbed our top-floor apartments and our loft offer a private sauna with its own terrace.
MEETINGS & INCENTIVES & EVENTS
We're certainly not a classic conference hotel. Why?
You're looking for individuality and freedom of choice in terms of how you use your time, leisure activities, accommodation, catering and rooms so our aim is to make you not only better informed but also more motivated and relaxed with:
two small but excellent meeting rooms with a full range of technical facilities
-a trainer loft
-accommodation in single or double rooms
-breakfast, snack break
-indoor or outside catering in exceptional locations
Our proximity to the Congress Schladming conference centre make the Chalets Coburg the ideal accommodation for events of all sizes and major conventions. Three minutes to the Congress Schladming centre.
From Coburg with love!
Rum/Lägenheter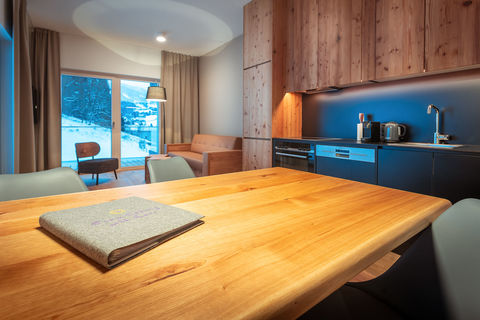 Coburg ONE BASIC
Apartment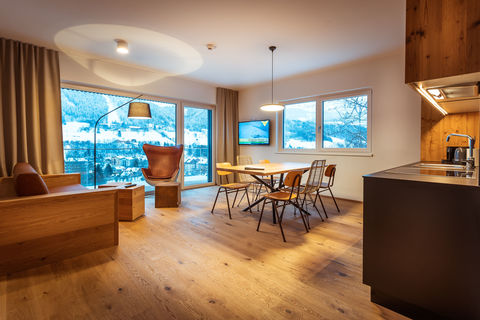 Coburg TWO BASIC
Apartment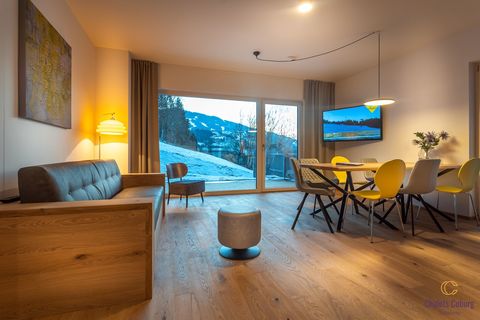 Coburg FAMILY & More
Apartment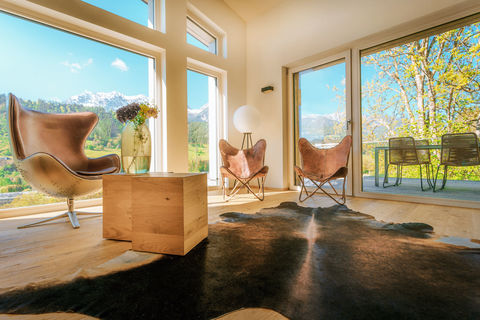 Coburg ON TOP
Penthouse Apartment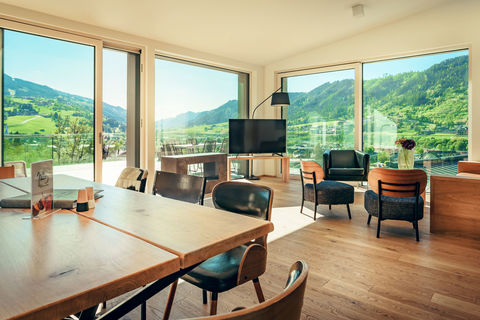 Coburg LOFT
Penthouse Apartment
Videos
Our INCLUSIVES:
-Free high speed Wi-Fi throughout the hotel
-Private parking in the garage
-Lift
-Skiroom inclusive heated ski boots dryer
-Lockable bike storage and BIKE washing area
-Free use of the sauna and our "Viewpoint"
-Free tea & juice bar
-Free use of the Coburg Lounge
-CHALETS COBURG Bonuscard with many advantages & reductions on 365 days
-Schladming-Dachstein Sommercard with over 100 free holiday attractions
-Baby cot & high chair on request and availability
-Reception and concierge service
-E-bike rental for € 20 per adult and € 10 per kids until the age of 12 -> starting from 4 p.m. the rental is for free
-Business service
-Free Dog amenities (dog blanket, dog bowls)
-Bathrobes and slippers
Sooo much more services:
-Laundry room with mashing machine and dryer, both work with coins
-Laundry service
-Breakfast buffet
-Roll service and breakfast in bed
-Massage
-Catering service
-Beverage delivery
-Welcome service with fridge filling
-Transfer service & car rental service
-Cleaning service
-Ski-ticket service
-Booking of ski schools and ski rental (10% discount)
-10 - 15% on mountain bike rental
-10% on GoKart rental
-10% on Ski & snowboard rental
-10% on ski service
-15% on one item of your choice at Blue Tomato
-Golf service
-Ironing Board & Iron rental service
-Late Check-Out and Early Check-In on request and availability
mehr anzeigen
Erbjudanden Vinter
familjesemester / med skidpass / paketerbjudande för skidåkning
Gültig från 18.03.2023 till 16.04.2023
Priser
Coburg QUEEN (Apartment)
pro Einheit / pro Nacht
| Frühstück
+ 110,00 €
pro Objekt / pro Aufenthalt
Ortstaxe
pro Person / pro Nacht
0 - 14 Jahren inkludiert
från 15 Jahre + 2,50 €
Haustiere: Dog
max. 3 zulässig
+ 15,00 €
pro Antal / pro Natt
Coburg ONE (Apartment)
pro Einheit / pro Nacht
| Frühstück
+ 110,00 €
pro Objekt / pro Aufenthalt
Ortstaxe
pro Person / pro Nacht
0 - 14 Jahren inkludiert
från 15 Jahre + 2,50 €
Haustiere: Dog
max. 3 zulässig
+ 15,00 €
pro Antal / pro Natt
Coburg ONE BASIC (Apartment)
pro Einheit / pro Nacht
| Frühstück
+ 110,00 €
pro Objekt / pro Aufenthalt
Ortstaxe
pro Person / pro Nacht
0 - 14 Jahren inkludiert
från 15 Jahre + 2,50 €
Haustiere: Dog
max. 3 zulässig
+ 15,00 €
pro Antal / pro Natt
Coburg TWO (Apartment)
pro Einheit / pro Nacht
+ 150,00 €
pro Objekt / pro Aufenthalt
Ortstaxe
pro Person / pro Nacht
0 - 14 Jahren inkludiert
från 15 Jahre + 2,50 €
Haustiere: Dog
max. 3 zulässig
+ 15,00 €
pro Antal / pro Natt
Coburg TWO BASIC (Apartment)
pro Einheit / pro Nacht
+ 150,00 €
pro Objekt / pro Aufenthalt
Ortstaxe
pro Person / pro Nacht
0 - 14 Jahren inkludiert
från 15 Jahre + 2,50 €
Haustiere: Dog
max. 3 zulässig
+ 15,00 €
pro Antal / pro Natt
Coburg FAMILY & More (Apartment)
pro Einheit / pro Nacht
+ 180,00 €
pro Objekt / pro Aufenthalt
Ortstaxe
pro Person / pro Nacht
0 - 14 Jahren inkludiert
från 15 Jahre + 2,50 €
Haustiere: Dog
max. 3 zulässig
+ 15,00 €
pro Antal / pro Natt
Coburg ON TOP (Penthouse Apartment)
pro Einheit / pro Nacht
+ 230,00 €
pro Objekt / pro Aufenthalt
Ortstaxe
pro Person / pro Nacht
0 - 14 Jahren inkludiert
från 15 Jahre + 2,50 €
Haustiere: Dog
max. 3 zulässig
+ 15,00 €
pro Antal / pro Natt
Coburg LOFT (Penthouse Apartment)
pro Einheit / pro Nacht
+ 230,00 €
pro Objekt / pro Aufenthalt
Ortstaxe
pro Person / pro Nacht
0 - 14 Jahren inkludiert
från 15 Jahre + 2,50 €
Haustiere: Dog
max. 3 zulässig
+ 15,00 €
pro Antal / pro Natt
Betalningsvarianter
Barzahlung / Kreditkarte Visa oder Mastercard / Bankomatkarte / Vorrauszahlung
Tänk på
The laundry package costs additional € 25 per person
Hotell / Semesterlägenhet / Bed & Breakfast / Chalet
106 Bäddar, 36 Rum, 21 Lägenheter

Chalets Coburg Schladming

Coburgstrasse 833, 8970 Schladming - Ankomst