Boenden
lti alpenhotel Kaiserfels
- Sankt Johann in Tirol
lti alpenhotel Kaiserfels
6380 St. Johann in Tirol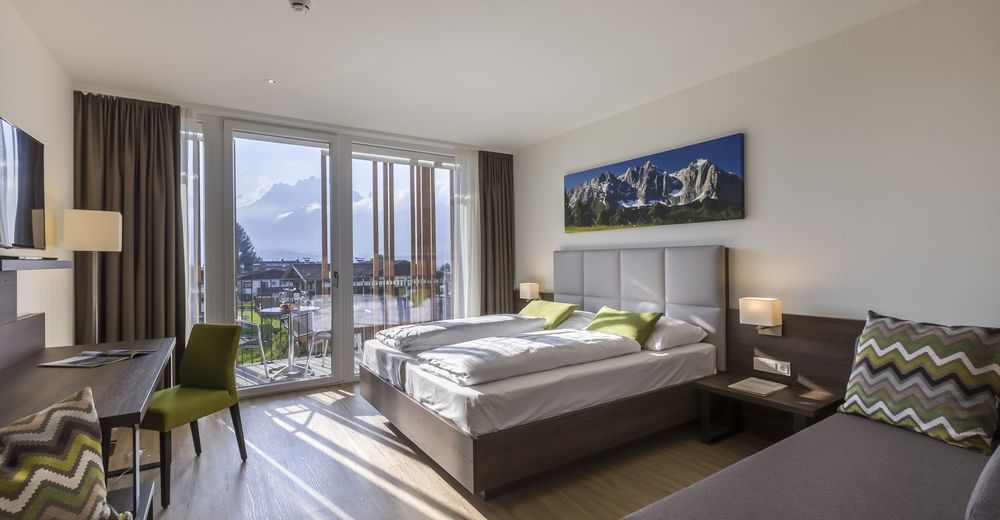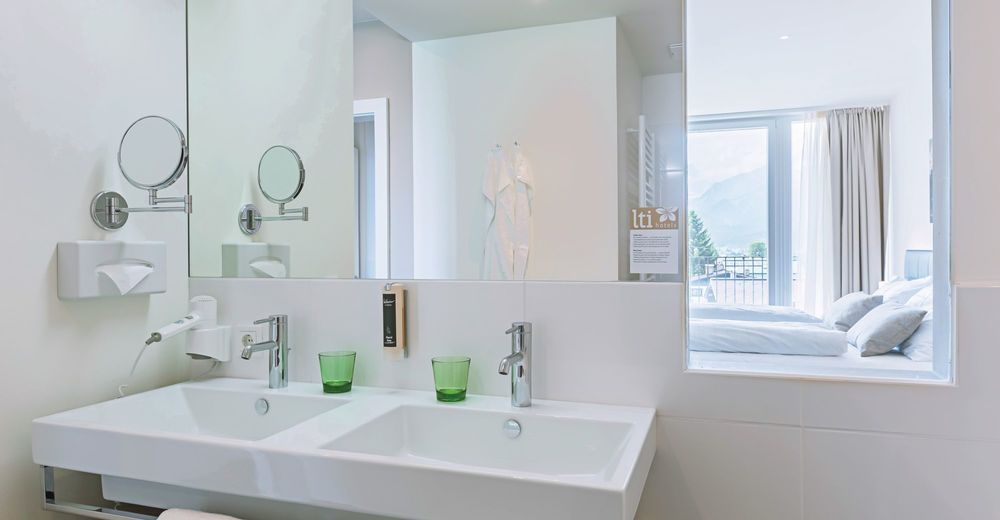 lti alpenhotel Kaiserfels **** St. Johann in Tirol
In January 2015 successfully opened the 4 * hotel with 31 renovated house stock-rooms and a complete new building with 99 rooms and has a total of 130 rooms.
All double and family rooms as well as the high quality modern suites are spacious and all have digital infotainment, free Wi-Fi and beautiful mountain views.
The spacious lobby, large sun terraces and a lounge invite you to linger. In the restaurant and bars you can eat with relish and enjoy the evening with a drink in good company.
The spa and beauty center "Kaiser SPA" You can let your mind wander.
Free Time
Hiking, Biking, Fun Sports (Canyoning, Rafting, Mountaincart, Paragliding), Golf
Allgemeine Verfügbarkeit lti alpenhotel Kaiserfels
på begäran
tillgänglig
stängd
december 2020
KW
mån
tis
ons
tor
fre
lör
sön
1
2
3
4
5
6
7
8
9
10
11
12
13
14
15
16
17
18
19
20
21
22
23
24
25
26
27
28
29
30
31
november 2021
KW
mån
tis
ons
tor
fre
lör
sön
1
2
3
4
5
6
7
8
9
10
11
12
13
14
15
16
17
18
19
20
21
22
23
24
25
26
27
28
29
30
Priser
| Vinter | Huvudsäsong | Vor-/Nebensaison |
| --- | --- | --- |
| Övernattning | 125 € till 294 € | 75 € till 235 € |
| med frukost | - | - |
| Halvpension | 125 € till 294 € | 75 € till 235 € |
| All-inclusive | - | - |
| Sommar | Huvudsäsong | Vor-/Nebensaison |
| --- | --- | --- |
| Övernattning | 78 € till 209 € | 63 € till 199 € |
| med frukost | 68 € till 199 € | 53 € till 189 € |
| Halvpension | 78 € till 209 € | 63 € till 199 € |
| All-inclusive | - | - |
Ytterligare information
Standard (Doppelzimmer)
| Halvpension
Ortstaxe
pro Person / pro Nacht
+ 2,20
16-17 Jahre + 2,20
Superior (Doppelzimmer)
| Halvpension
Ortstaxe
pro Person / pro Nacht
+ 2,20
16-17 Jahre + 2,20
Juniorsuite
| Halvpension
Ortstaxe
pro Person / pro Nacht
+ 2,20
16-17 Jahre + 2,20
with connecting door (Familienzimmer)
| Halvpension
Ortstaxe
pro Person / pro Nacht
+ 2,20
16-17 Jahre + 2,20
Executive (Doppelzimmer)
| Halvpension
Ortstaxe
pro Person / pro Nacht
+ 2,20
16-17 Jahre + 2,20
Executive (Juniorsuite)
| Halvpension
Ortstaxe
pro Person / pro Nacht
+ 2,20
16-17 Jahre + 2,20
Kaisersuite (Suite)
| Halvpension
Ortstaxe
pro Person / pro Nacht
+ 2,20
16-17 Jahre + 2,20
post-stay bank transfers are not possible
Rum/Lägenheter
Betalningsvarianter

We accept: Cash, Debit-Cards, Credit Cards (Mastercard, Visacard, American Express), Bank-transfer prior to arrival