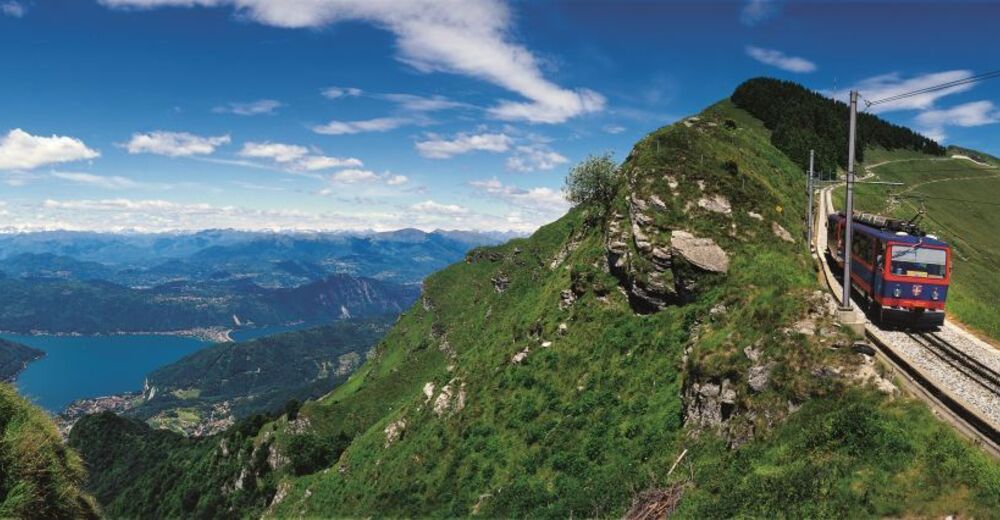 360 degree panorama from the summit of Monte Generoso
From the summit of Monte Generoso, at a height of 1704m above sea level, you can enjoy a 360 degree panorama considered the most beautiful in the Canton of Ticino as well as one of the most fascinating in Switzerland. It sweeps from the Apennines to the Alps, enabling you to admire from an elevated perspective, the North of Italy, the Lakes region and the Alpine chain. On the Belvedere, right on the top of the mountain there are information tables which help you recognize the valleys, lakes, cities, towns, villages and peaks all visible to the naked eye. A design by Edoardo Francesco Bossoli, commissioned by the Club Italiano Alpine CAI (Italian Alpine Club), that was included in the first monthly bulletin in 1875 for its members, has been reproduced.
Monte Generoso's 360 degree panorama is enchanting by day and fascinating even in the evening and at night.
The concentration of lights particularly in the built-up areas of Northern Italy, produce a magical effect. Just as magic is the view over the Lakes region and the Alpine chain, especially on nights when there is a blue moon. Special experiences, full of emotion, that can be enjoyed from the summit of Monte Generoso, are the sunsets and sunrises, when the sun transforms the sky and the earth into a sea of colours.
From the Vetta reception building, the summit of the mountain can be reached in approximately 10 minutes. It takes just a short walk providing time for nature and contemplation.
There are countless leisure opportunities for all tastes. From simple walks along the 51 km of tracks, to cave exploration, from mountain bike jaunts along a 27 km course to paragliding and from bird-watching to astronomy.
The railway and the Buffet at Bellavista station will remain closed due to the important building site for the construction of the new Hotel/Restaurant Vetta Monte Generoso. See you in 2015!
---
Kontakt Monte Generoso

Ferrovia Monte Generoso SA
Via Lüera 1, CH-6825 Capolago
Telefon

Fax

Hemsida
E-Mail
Platser Mendrisiotto und Basso Ceresio
Webbkameror