Summer Fun and Winter Dreams
Fun summers and fairytale-like winters are drawing all types of outdoor enthusiasts to St. Johann in Tirol.
The heart of the Holiday Region is a great destination for all seasons and ages, including everyone from water babies to serious rock climbers. Set at the foot of the majestic Kaiser Mountains, St. Johann in Tirol is a paradise for cyclists, mountain bikers, ramblers and hikers. Enjoy magnificent walks or bike tours through lush pastures, colorful meadows and past roaring waterfalls to cozy mountain huts - or to a friendly beer garden.
The greater St. Johann in Tirol region provides an abundance of splendid hikes and with over 20 quaint snack stations, huts and mountain inns you never have to go long without a break and a hearty snack.
Wherever you stay in St. Johann you will enjoy easy access to lush green hills in the summer or to superb ski slopes in the winter. Located at the foot of Harschbichl Mountain, St. Johann in Tirol gets abundant snowfall each winter, and with 40 kilometers of impeccable slopes on the north-facing side of Kitzbüheler Horn and 10 ski lifts, the resort pleases all types of skiers. And if you are new to the sport, St. Johann has highly motivated and experienced instructors who can teach everyone how to ski or snowboard in no time at all!
St. Johann in Tirol is also famous for its excellent cross-country skiing: 170 kilometers of groomed trails wind their way through the sunny valley.
---
---
Tips för fritiden St. Johann in Tirol
---
Kontakt St. Johann in Tirol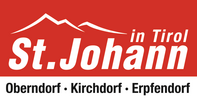 Kitzbüheler Alpen St. Johann in Tirol - Oberndorf - Kirchdorf - Erpfendorf
Poststrasse 2, A-6380 St. Johann in Tirol
Telefon

Fax

Hemsida
E-Mail
Begäran und Beställning av broschyr Boende
Platser Kitzbüheler Alpen St. Johann in Tirol
Järnvägar i bergsområden Sommardrift

Boende St. Johann in Tirol
37 Hotels, Lägenheter för semester...

Leverantör av sportutrustning St. Johann in Tirol
Erbjudanden und Paket St. Johann in Tirol
Webbkameror