Health and vitality
At Terme Zreče there is always something you can do for yourself and for your health. Warm acratothermal water, invigorating baths, soothing compresses and traditional medical therapies strengthen health and improve wellbeing. A unique natural remedy, Pohorje peat, is notable for its ecological purity and effectiveness in treating and alleviating rheumatic and other disorders.
Relaxation and pampering
A wide variety of massages, baths and relaxation programmes to fill you with new energy and restore body and soul – total pleasure and relaxation for even the most demanding guest. You can choose from among a range of massages of different kinds, in combination with healing herbs, essential oils, salts and mud. The Sawaddee traditional Thai therapy centre occupies a special place. In the Sauna Village you will be caressed by warmth, intoxicated by aroma and invigorated by colours and sound. Our chefs will pamper you with fine food – accompanied by wines from the surrounding vineyards.
From thermal springs among the vast pohorje forests
The town of Zreče – young, attractive and friendly – has grown up in the embrace of the vast Pohorje forests, at the point where the torrential river Dravinja grows calmer, connecting the world of the mountains with the vineyardcovered Dravinja Hills. It shares its youth and vitality with a modern spa that takes advantage of all the natural advantages of the area. Just half an hour's drive from Terme Zreče is the Rogla climatic health, skiing and sports centre (1,517 metres above sea level). With a mild mountain climate and endless opportunities for sport and recreation, it is the perfect complement to the spa – all year round.
Therme Zreče
Adresse: Cesta na Roglo 15 3214 Zreče
Tel.: +386/(0)3-7576000, +386/(0)3-7576156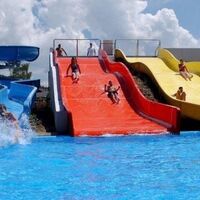 Kontaktinformation
Vidareförande information:
www.terme-zrece.si
Förfrågan till:
terme@unitur.eu
Unterkünfte finden Zreče
Webcams