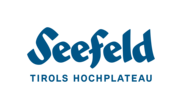 Längdskidåkning
Region Seefeld - Tirols Hochplateau
1.180 - 1.550m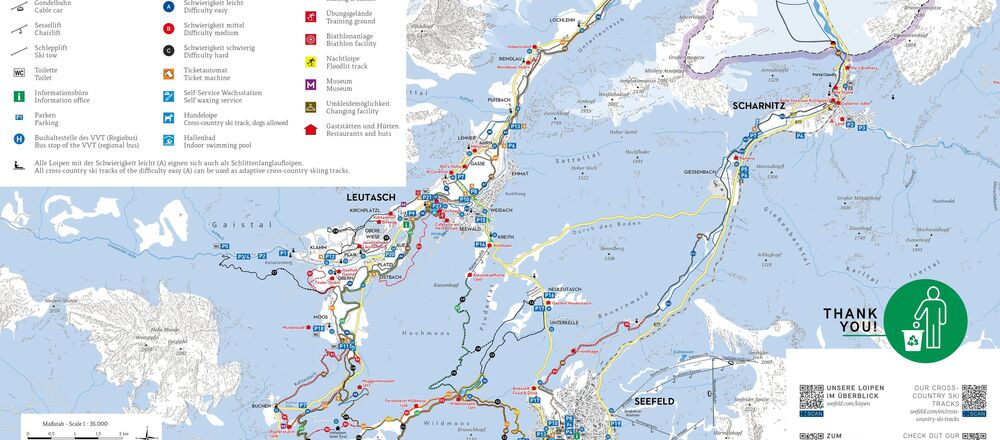 Loipen Igår, 02:00
Nuvarande verksamhet: Stängd
Around 245 kilometers of cross-country trails amidst a unique mountain backdrop
Located in the heart of the Alps at an altitude of 1,200 metres, and with a vast network of tracks, the region offers second-to-none conditions for cross-country skiing. Nordic skiing in Tyrol is a sport that looks back on a long tradition – a tradition that is still very much alive today. For many years now, the main focus in our region has been on the Nordic sport disciplines. Thanks to its fantastic cross-country trail network, covering no fewer than around 245 kilometres and suitable for all levels of ability, the region is a magnet for recreational and professional athletes alike.
The cross-country skiing trails and routes are all clearly and uniformly sign-posted, and information boards provide all the necessary facts and figures on distance, level of difficulty, elevation profile and connecting tracks. In addition, skiers can access the user-friendly interactive map on the region Seefeld homepage, which provides two- and three-dimensional views of various routes complete with distances, elevation differences, refreshment stops and even sights and attractions along the way.
The area also boasts a wealth of accommodation specially geared to the needs and wishes of cross-country skiing enthusiasts. Depending on the type and category of accommodation, skiers can also enjoy a host of spa and well-being facilities to rebalance and revive body, mind and soul. In addition, the public leisure pool complexes, such as the Olympia Sport and Congress Centre in Seefeld and the ErlebnisWelt Alpenbad in Leutasch, also provide oases of relaxation in which to unwind and recharge your batteries.
Cross-country ski track rescue service
Safety in the field of cross-country skiing is an issue that takes top priority here in the region Seefeld. In 2013 the foundations were laid in Tyrol for a pilot project that is the only one of its kind worldwide – namely, cross-country ski track rescue. Based on information and experience gained over many years by the local 'Cross Country Academy', a concept for an up-to-the-minute form of rescue for cross-country skiers was drawn up and, in collaboration with the Seefeld Tourism Association, a professional rescue model was put into practice. Thanks to this innovative project and its state-of-the-art resources, injured cross-country athletes receive professional help in the shortest of time. The time required to put rescue operations into action has already been halved.
For many people, Nordic sport is a way of life
And here in the region Seefeld, the 'Nordic Lifestyle' concept offers all-embracing experiences for discerning Nordic sport lovers, complete with highest quality services and amenities. The combination of sport and exercise, fine living and dining and exhilarating events offers a unique all-round experience for body, mind and soul. As a member of the exclusive 'Best of the Alps' alliance, the region is a firmly established destination offering a top-class lifestyle, culture, sports, events and a flourishing tourist industry. Our year-round resort is characterised by its international clientele, high-end hotel industry, superb gastronomic offerings and excellent infrastructure.
The World Championship and Olympic region in Tyrol ranks as the training and competition centre for top athletes. A superb infrastructure, the vastness of the terrain and the high altitude of 1,200 metres above sea level, provide perfect conditions for cross-country skiing. And with the Nordic Competence Centre in Seefeld, the region boasts one of the most modern biathlon facilities in Europe, complete with two new ski jumps and kilometres of cross-country ski tracks served by artificial snow-making facilities. In addition, the Competence Centre is home to Austria's longest roller-ski circuit – 3.6 kilometres – which offers ideal training conditions during the summer months. The centre is open not only to professional athletes, but also to amateurs and newcomers to the world of Nordic sports who can participate in one the many professional courses on offer. Highlights of the cross-country skiing season are the annual 'Nordic Combined Triple Seefeld' and the 'Euroloppet Ganghoferlauf Leutasch', part of the renowned Euroloppet series of cross-country ski marathons.
Seefeld has played host to the Olympic Nordic disciplines no fewer than three times – in 1964, 1976 and 2012. It was the venue of the FIS Nordic World Ski Championships in 1985, and organises the Nordic World Cup on an annual basis. Following the success of 1985, the region Seefeld has been selected as the venue for the Nordic World Ski Championships in 2019, and the region is incredibly proud to be able to host the prestigious Nordic sport event once more.
Seal of Quality
As a holder of the coveted 'Seal of Quality' for its cross-country ski tracks awarded by the Tyrolean government, the region guarantees a first-class network of trails. In addition, the region has received many awards from the German automobile association ADAC and from the German Ski Federation for its outstanding cross-country ski trails set amid a unique alpine landscape. In the 'ADAC Atlas' ski resort guide, the region's network of cross-country ski trails was awarded 2nd place among 200 first-class cross-country ski areas. And in the 2014/2015 winter season, 'Alpensicht.com' ranked the village of Leutasch as the top cross-country ski resort, awarding it with the highest accolade of 5 stars – all testimony to the unparalleled quality of cross-country skiing on offer in the region Seefeld.
Owing to its geographic location, the village of Leutasch, according to a study carried out by ski tourism researcher Günther Aigner (2014), is one of the most snow-reliable areas in Tyrol. Thanks to the additional practice of 'snow farming', the preparation of cross-country ski tracks for recreational and professional athletes can begin as early as the beginning of November.
---
Priser
Day & multi-day ticket in winter 2022/2023
Day ticket without guest card € 12,00
Day ticket with guest card € 8,00
Multi-day ticket with guest card € 23,00
Annual ticket in advance sale until 30.11.2022 € 115,00
Annual ticket from 01.12.2022 € 165,00
---
Förfriskningsställen
Eine große Dichte an Restaurants, Cafes, Hütten & Pubs ist in der Region vorhanden, welche mit Tiroler Spezialitäten, Internationaler Küche & Süßspeisen Ihren Urlaub versüßen.
---
Aktuell information om längdskidspår
Webbplats

E-Mail

Telefon

+43 (0)50 880
Loipen Översikt
37
klassiska leder
134.2 km
32
Skatingloipen
117.2 km
1
Spår med strålkastare
3 km
Die Nachtloipe ist Montag bis Freitag von 17:00 Uhr bis 21:00 Uhr geöffnet.
Olika
Uthyrning
Längdskidor Tjänster

Kontakt Turistbyrå
Region Seefeld – Tirols Hochplateau / Informations- und Mobilitätszentrum Seefeld
Adress

Bahnhofsplatz 115, A-6100 Seefeld

Telefon

+43 (0)5 0880

E-Mail

Homepage
De mest populära regionerna för längdskidåkning