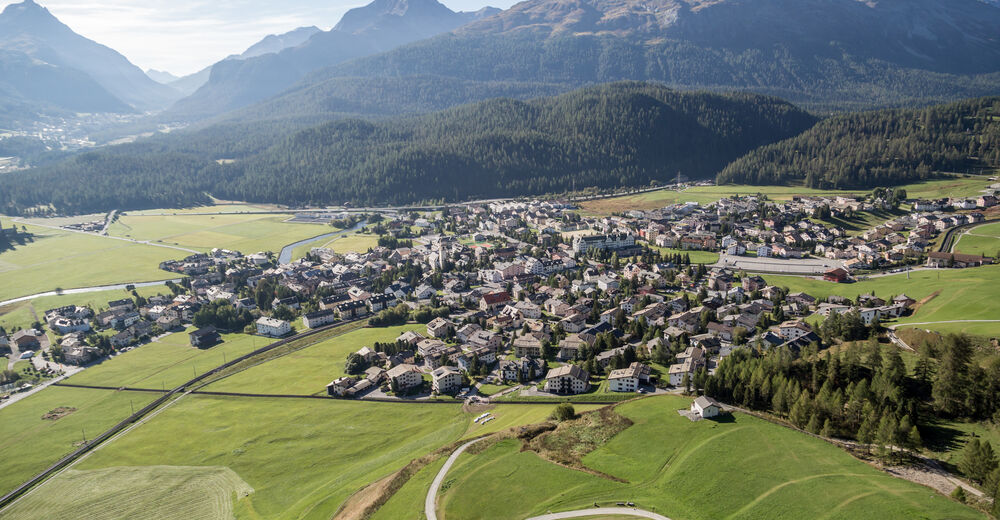 The sunny resort
Just because it has St. Moritz as a neighbour doesn't mean that Celerina pales into insignificance: on the contrary, the village is overflowing with charm, variety and sun.
Celerina's cableways transport guests from the endlessly long valley plains up through "cloud nine" into the heart of Paradise. On the Muottas Muragl, gourmets will find the only Alpine restaurant that offers mountain dining by night, while during the day hikers can revel in challenging paths and spectacular panoramic views over the Upper Engadin lake landscape. On the Corviglia/Marguns, mountain bikers will delight in the demanding biking trails, while at the summit station families have fun at the large playground or the new paddling lake. The route back down to Celerina can be covered on foot via the Fairytale Trail or by mountain scooter. And here, a short distance outside the village, the Church of San Gian – dating from the 14th century – basks majestically in the sunlight.
In Celerina, things do not come to a halt just because it is evening. Its innovative hotels make sure that there is always something going on – a concert, a party, always small, always well-organised, and exactly for that reason so enjoyable. It is also true to say that Celerina sounds great! For every August, the New Orleans jazz scene convenes in this sun-blessed village. Yet anyone seeking peace and tranquillity will also find it here – on the valley plains, with their sun-filled forests, in the heart of which the romantic Lake Staz invites visitors to bathe.
---
---
Tips för fritiden Celerina / Schlarigna
---
Kontakt Celerina / Schlarigna
Engadin St. Moritz Tourismus AG
Via Maistra 1, CH-7500 St. Moritz
Telefon

Fax

Hemsida
E-Mail
Begäran und Beställning av broschyr Boende
Platser Engadin St. Moritz
Järnvägar i bergsområden Sommardrift

Boende Celerina / Schlarigna
12 Hotels, Lägenheter för semester...
Erbjudanden und Paket Celerina / Schlarigna
Webbkameror