Loipen Idag, 03:05
Alle Informationen sind auf www.rvb.at unter "Dachstein Langlauf" zu finden.
Nuvarande verksamhet: dagligen
Cross-country skiing - a Sport for your soul
One of the healthiest and oldest sports in the world is inspiring more and more people. Cross-country skiing is now more popular than ever! Beautiful landscapes and perfectly maintained cross-country skiing trails invite you to enjoy a very special winter experience. Ramsau, as one of the top destinations, allows you to step into the same trails which the world elite competed on during the world championships in 1999.
The cross-country network of Ramsau am Dachstein covers up to 220 km of classic – and 105.5 km of sport and skating trails. Top athletes and amateurs come here to enjoy "snow wellness" on the tracks of the world champions. The central starting point for Nordic sports is the cross-country stadium in Ramsau Ort with its own test centre. Ramsau am Dachstein's different altitudes offer a variety in levels of difficulty for all cross-country skiers, leaving nothing to be desired this winter! More than 50 stops for refreshments, within the surroundings of the 17 cross-country ski loops, round off an enjoyable "Nordic Winter Fitness" adventure.
A special highlight for all active and sporty guests is the fully lit night-trail in the cross-country stadium which is open daily from 6pm to 9pm.
Everyone can learn to cross-country ski
World champion and Styrian cross-country skiing coordinator Dr. Alois Stadlober is responsible for the concept and planning of the courses. He is convinced that everyone can learn to cross-country ski in just about six hours! With a little skill and willpower, you can teach yourself the right techniques from the start so that the health benefits of cross-country skiing can take effect. "Cross-country skiing is only enjoyable when done properly."
In addition to the first balance exercises, cross-country skiers, in particular, practice the correct sequence of movements so that they can then build onto a good foundation. Cross-country skiing is always healthy as a total of 600 muscles are activated during cross-country skiing and Nordic walking, considerably more than when jogging. And Stadlober is also convinced of one thing: "Cross-country skiing is young and trendy, and it makes you healthy, smart and sexy."
Kids, let's go cross-country skiing
For children, we offer special taster sessions and courses. Details can be found in our current winter program. The complete children's cross-country skiing equipment (skis, poles, and boots) for classic and skating can be rented directly on site.
International Training Center
The high-altitude cross-country trail on the Dachstein glacier and the indoor training centre complement the area's offer for sports and leisure activities.
Power equipment, cycle ergometers, treadmills, a climbing tower, and a gymnasium, as well as performance diagnostic and training control are available to all athletes and guests at this showcasing training centre. Dr. Alois Stadlober has also contributed his knowledge to the implementation of this new offer. Olympic champions and world champions from all over the world find "the source of their strength" here.
The famous World Cup track has recently been adapted to the latest requirements, and the infrastructure for major events has been optimized. A tunnel has been built to separate it from the cross-country skiing for tourists so that their cross-country skiing experience is not impaired during major sporting events and the World Cup track is now usable from the end of autumn onwards.
Technically up to date
Snow-making systems form a vital part of every ski resort. As a trendsetter in technical developments, Ramsau am Dachstein is constantly updating its equipment to maintain the alpine and cross-country tracks at their highest standard.
2019, Ramsau am Dachstein invested 1 Million Euros in a 1.8 km long snow pipeline to guarantee a snow-covered cross-country skiing distance of 4 km. An independent power supply was also built to bypass the electrical infrastructure of Ramsau-Ort.
Again and again, managers and staff from other cross-country skiing areas come to Ramsau to exchange experiences and to train. For modern snowmaking, preparation and signage, Ramsau holds a special role model function.
Cross-country skiing schools are professional partners for learning the right techniques (parallel, skating, Nordic Cruising ...), with extensive (trial) programs:
---
Priser
Trail pass fees 2021/22 Ramsau am Dachstein per person:
1/2-day pass (from 11:30 am ) € 14,00
1 day pass € 19,00
2 day pass € 29,50
3 day pass € 38,50
4 day pass € 44,50
one week pass (valid for max. 8 days) € 54,00
10 day pass € 63,00
14 day pass € 71,50
20 day pass € 80,00
---
Season pass Ramsau am Dachstein adult until 06.12.2023: € 161,00
Season pass Ramsau am Dachstein adult from 07.12.2023: € 196,00
Children up to 15 years: no fee
---
Förfriskningsställen
Viele Einkehrmöglichkeiten entlang der Loipe.
Hütten, Gasthöfe und Bauerhöfe mit Sonnenterrassen laden zum Verweilen ein.
---
Videos
---
Aktuell information om längdskidspår
Webbplats

E-Mail

Telefon

+43 (0)3687 23310
Loipen Översikt
17
klassiska leder
125 km
6
Spår på hög höjd
35 km
Panoramaloipe am Dachstein Gletscher, Die Hallstätterloipe (9km) und die Ramsauerloipe (5km), Standardloipe West bis Knotenpunkt Kreitseiler und Kulmberg Waldloipe, Höhenloipe Rittisberg1500
1
Spår med strålkastare
4 km
Ramsau Ort - Langlaufstadion von 18 bis 21 Uhr beleuchtet.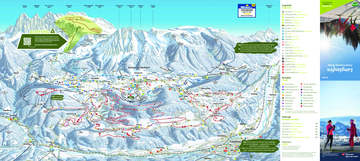 Olika
Uthyrning
https://www.schladming-dachstein.at/langlaufverleih
Längdskidor Tjänster
https://www.schladming-dachstein.at/langlaufen
Kontakt Turistbyrå
Tourismusverband Schladming-Dachstein
Adress

Ramsauerstraße 756, A-8970 Schladming

Telefon

+43 3687 23310

E-Mail

Homepage
De mest populära regionerna för längdskidåkning