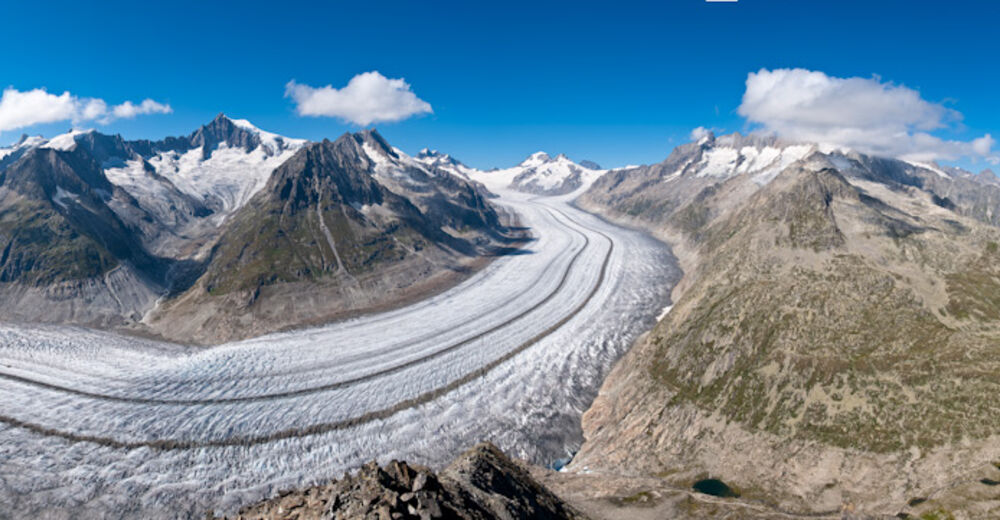 Tangy Alpine air, a place in the sun at the Aletsch Glacier and a clear view of the most beautiful 4,000-meter (13,000-foot) peaks of Valais – welcome to the mountain summer in Riederalp, Bettmeralp and Fiesch-Eggishorn. Welcome to the Aletsch Arena.
When the heat is closing in on you in the lowlands, sweat is flowing and the asphalt steaming, there's only one thing to do: escape to the Aletsch Arena.
The trip by aerial cable car takes between seven and ten minutes from the easily accessible valley communities of Mörel, Betten Talstation or Fiesch to the Aletsch Glacier plateau situated between 1,925-2,222 meters (6,316-7,290 feet) high in a car-free zone. A refreshing breeze of tangy Alpine air welcomes every visitor here. As an extra, there is the breathtaking view of the most beautiful 4,000-meter (13,000-foot) peaks in Switzerland. Toward the south, the Matterhorn towers majestically, nestled between Weisshorn and the Mischabel Group with the Dom. From the vista points Moosfluh, Bettmerhorn or Eggishorn, towards the north you'll have a unique view of Eiger, Mönch, Jungfrau, Wannenhorn and Finsteraarhorn as well as the 23-kilometer (14-mile) long Aletsch Glacier, the longest ice flow in the Alps and the heart of the Swiss Alps' Jungfrau-Aletsch UNESCO World Heritage Site.
For alpinists the Aletsch Arena is heaven on earth. You can experience the unique mountain world and refresh your body and spirit in the protected Aletsch Forest on innumerable mountain walks, over 300 kilometers (186 miles) of hiking trails and 100 kilometers (62 miles) of mountain bike trails. The lakes Blausee and Bettmersee as well as children's playgrounds invite you to linger. If you want something more exclusive, the Riederalp golf course, the rope courses at Bettmeralp (Seilpark Baschweri) and Fiesch (Swiss Seilpark), along with paragliding at Fiescheralp ensure that you won't be bored.
In the Aletsch Arena, there is something for everybody. Moreover, there are suitable accommodations for every budget, from four-star hotels to simple vacation apartments. We look forward to seeing you!
---
---
Tips för fritiden Aletsch Arena
---
Kontakt Aletsch Arena

Aletsch Arena AG
Furkastrasse 39, CH-3983 Mörel-Filet
Telefon

Fax

Hemsida
E-Mail
Begäran und Beställning av broschyr Boende
---
Kontakt Järnvägar i bergsområden
Aletsch Bahnen AG
Hauptstrasse 12, CH-3992 Bettmeralp
Telefon
Järnvägar i bergsområden Sommardrift
Boende Aletsch Arena
4 Hotels, Lägenheter för semester...
Erbjudanden und Paket Aletsch Arena
Händelser
08.12. - 10.12. dagligen

31.12.

04.01. - 07.01. dagligen
Webbkameror