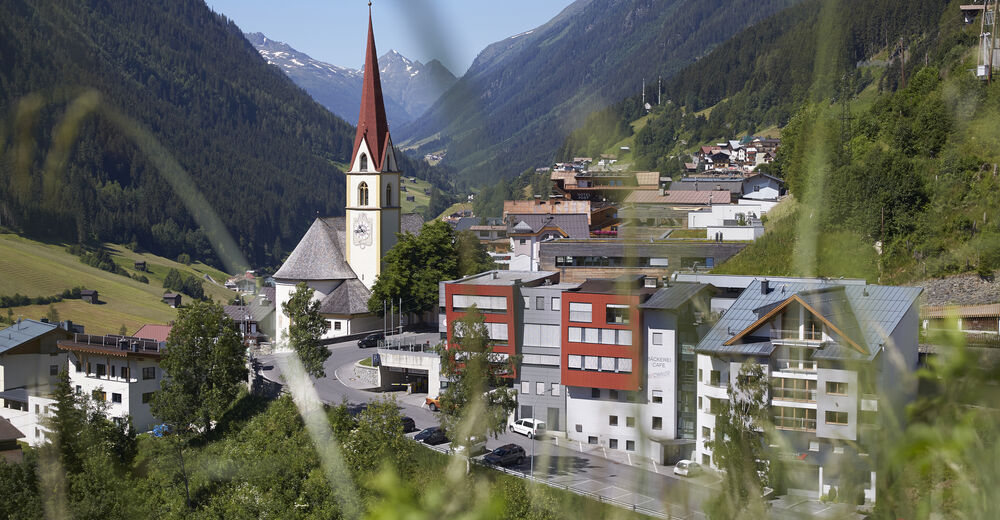 Tradition and progress in perfect harmony
Beautifully situated in the midst of the impressive mountain world of the Paznaun Valley, Kappl attracts visitors with its true village idyll, warm hospitality, culinary delights and fantastic leisure facilities.
Around the village, the huge silvery grey mountains tower into the sky. Nestling on the mighty slopes between forests and meadows, Kappl has retained its original character all these years – and it's this flair that is so enchanting.
Farmhouses nestle closely together. In summer, glorious flowers gleam between weather-beaten wood. And in winter, a thick covering of snow glitters. It's the unmatched character of Kappl that captivates visitors: In Kappl, village life is shaped by its unspoilt nature. You can feel this – and it's what makes holidays in Kappl unforgettable.
Here, your eyes and heart open up to enjoy relaxed leisure time or exciting adventure tours. The range of possibilities is rich and thrilling.
An extensive network of walking and hiking paths takes visitors into Kappl's romantic surrounding area, revealing superb gems. This delightful landscape is not only a living example of totally unspoilt nature – it's also the origin of and home to centuries of history that you'll encounter at every turn. Around Kappl, you can find some 90 hamlets – traditional little mountain villages – and a multitude of chapels, which gave the village its name (from the Latin "ad capellam").
Kappl has always remained true to its roots so the village is not overrun with high-rise hotels. The locals have managed to retain the traditional character of the village while offering the latest technology and comfort. A new dimension of holiday is born!
Whether your dream holiday involves being active, relaxed or a mixture of the two, Kappl can make it come true.
---
---
Tips för fritiden Kappl
---
Kontakt Kappl
TVB Paznaun - Ischgl / Ortsstelle Kappl
Dorf 112, A-6555 Kappl
Telefon

Fax

Hemsida
E-Mail
Begäran und Beställning av broschyr Boende
---
Kontakt Järnvägar i bergsområden
Bergbahnen Kappl
Au 483, A-6555 Kappl
Telefon
Järnvägar i bergsområden Sommardrift
Boende Kappl
291 Hotels, Lägenheter för semester...
647 Erbjudanden und Paket
Leverantör av sportutrustning Kappl
Erbjudanden und Paket Kappl
Händelser
15.12. - 17.12. dagligen

06.01. - 13.01. dagligen

19.01. - 21.01. dagligen
Webbkameror