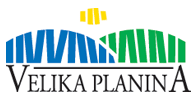 Velika planina
1.412 - 1.666m
Herdsmen's settlement
The herdsmen's settlement is known as one of few the settlements of such size in Europe and attracts many visitors throughout the year. It is distinct by its typical architecture which symbolises Velika planina. The roofs are covered with pine shingles, which extend rather low. The name of the cottage in the Kamnik part of Velika planina is "a herdsman hut" or "a shepher's home", and a pine shingle is called "šinkel".
The settlement is revived every June, when herdsmen return to the settlement and tend to their cattle until September. They are delighted to invite you to taste their dairy products or try a typical herdsmen's lunch; sour milk and hard-boiled corn mush.
The access is possible from the top station of the cable car; continue to the top of the mountain by foot (30 min walk on a gentle slope). We recommend you to alight from the lift at its first station and continue your path on the macadam road pass the lodging house Zeleni rob. Follow the signs for the herdsmen's settlement, which is 15 min away.
Quelle: www.velikaplanina.si/
---
Tips för fritiden Velika planina
---
Kontakt Velika planina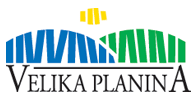 Velika planina d.o.o.
Kamniška Bistrica 2, SI-1242 Stahovica
Telefon

Hemsida
E-Mail
Begäran und Beställning av broschyr
---
Kontakt Järnvägar i bergsområden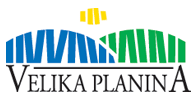 Velika planina d.o.o.
Kamniška Bistrica 2, SI-1242 Stahovica
Telefon
Järnvägar i bergsområden Sommardrift
Webbkameror