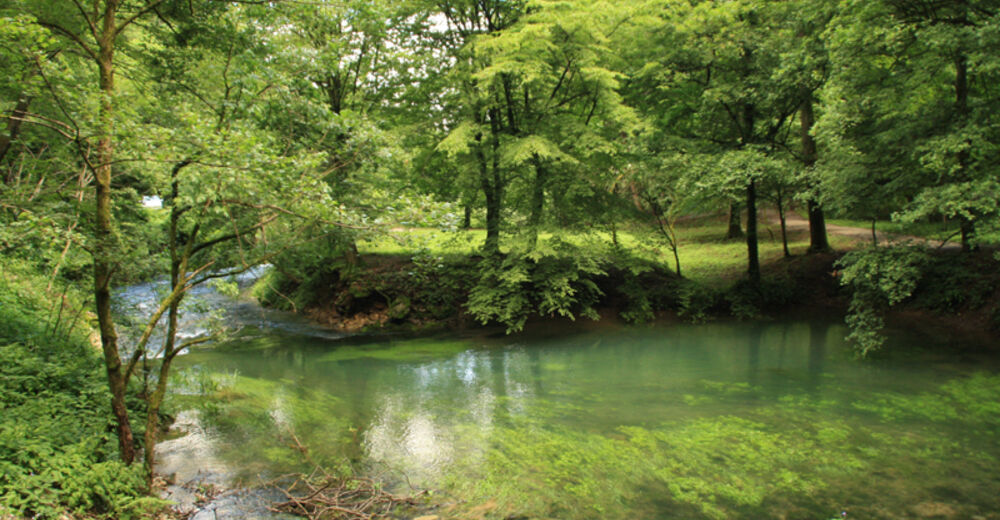 Vrhnika : nearby, green, interesting, remarkable!
Vrhnika is only 20 km away from the capital Ljubljana. The cities are connected with Karst characteristic of river Ljubljanica, that gave the town its name: Vrh means »to the surface« and nika »comes up«.
Walks along the many springs of Ljubljanica river is a pleasant refreshment in the summer months. The most popular are the biggest springs Retovje and Močilnik. If you want to visit the springs you can go from the center of Vrhnika (where TIC Vrhnika is located) or we can organize a guided tour.
You can also visit the springs between Vrhnika and Borovnica, where you can go on a tour of the Technical Museum of Slovenia. The building is surprising on the outside it used to be monastery and later mansion. In the castle park you can just sit beside the fish pond or attend one of the guided tours or demonstrations, which are regularly organized at the museum.
Vrhnika has a long history, it is mentioned by the Roman historian Pliny in connection with the ancient legend of the Argonauts. The ancient Argonauts under the guidance of Jason sailed to Ljubljanica, where they were stopped by the rocks in Močilnik. Today, we are reviving the legend with the traditional Argonauts days, which takes place in June and attracts a large number of people in the city.
Vrhnika is the birthplace of the greatest Slovenian writer Ivan Cankar. There are many events connected to the writer, his monument in the center, famous Eleventh School, where he spent his youth, his memorial house and a thematic path, which consists of many stories and anecdotes, thats why we recommend a guided tour.
Vrhnika has an interesting location, it is situated at the intersection of Karst and Marsh. A living bogs, where there is a permanent stagnant water which forms the peat in it, has largely disappeared. One of the few residues of the high moor is on Kostanjevica in Bevke, it is called called "Mali plac". It is a nature reserve and offers a unique experience of flora and fauna. Just a few kilometers away is a geological monument Kucler quarry. The tour can be done on foot or by bike ( bicycle rent possible in Vrhnika TIC ) we recommend a guided tour by the experienced guide.
The most popular from hiking trails is a hike to the Planina hill. There is is a lookout tower at the top (22 m high) which is one of the tallest freestanding wooden structures in Slovenia.
We invite you to visit our remarkable town!
Source: www.slovenia.info/de/-ctg-kraji/Vrhnika.htm?_ctg_kraji=5660&lng=2
---
Tips för fritiden Vrhnika
---
Kontakt Vrhnika
Zavod Ivana Cankarja za kulturo, šport in turizem Vrhnika
Tržaška cesta 9, SI-1360 Vrhnika
Telefon

Fax

Hemsida
E-Mail